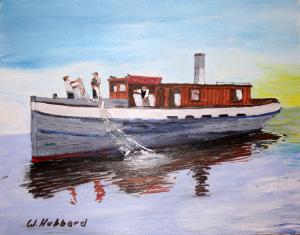 The Dahlmer Captains & Their Boats
A biographical history of Dahlmer captains and their boats on the Great Lakes and out of Gloucester, Mass. 1846 to 1960's by William Dahlmer Hubbard June 5, 2012

Part 1 - The Dahlmer Captains

Axel B. Dahlmer was born in 1846 in Helsingborg, Sweden which, then as now was the country's largest seaport. Like many young men from Helsingborg, he shipped out as seaman or cook on merchant vessels at an early age according to ships manifests and shipping news of the time. I have yet to find the date he came to the US but have learned that he was living in Leelanau, Michigan in
1863.

At the outbreak of the Civil War, he journeyed from Leelanau to New York City and enlisted in the US Navy on 5 Jul 1863. He served as a seaman aboard the USS City of New York. She was of British registry, leased to the US Navy which classified her as an "auxiliary cruiser" - an armed square rigger with auxiliary steam power. She served as transport; ferrying union troops and supplies between New York, Baltimore and ports of the Chesapeake. Later, she carried troops and supplies to other union ships blockading the Atlantic ports of the Confederacy. Axel was honorably discharged on Aug.12, 1865. His military ID was #1656788638.

Axle married Sophie Marie Kuehemun in 1870. She was born in Bremerhaven, Germany in 1854 or 1856. She had come to this country 2 Aug 1873. They made their home at various times in Leelanau and Charlevoix, Michigan and later established their home in Dunkirk, New York.

Axel shipped out on and eventually captained steamers on the Great Lakes. At one time he skippered the fast steamer William Maxwell for the Booth Fisheries Co of Chicago, freighting fish from their buying centers around the great lakes. He skippered and owned a number of fishing tugs, as they were known at the time including, John Smith, Geo. E. Fisher and Rough Rider. Axel died in Dunkirk, NY in 1905 when it was noted he had been a ship captain, Master Mariner and boat owner. Sophia died there in 1932. Both were later interred in the Dahlmer family plot in Calvary Cemetery in Gloucester.

John Andrew. Dahlmer was born in Allegany County, NY on 29 Jan 1876, the first son of Axel B. and Sophia M. Dahlmer. He was a steamer captain for Booth Fisheries among others and followed his fathers' footsteps as captain of their steamer, William Maxwell. At various times he fished on and eventually purchased fishing tugs John Smith, Geo. E. Fisher and Rough Rider from his father.

John married Anna "Annie" Gordon on 28 Jun 1898 in St. James, Beaver Island, Mich. She died in Gloucester on 17 Nov 1938. They had 15 children between 1899 and1923. They lived variously in St. James and Charlevoix, Michigan before moving their family to Gloucester, Mass in 1910. He died in Gloucester on 6 Jan 1951. He was a member of the Master Mariners Association of Gloucester.

In 1909 John had the gas powered 63' gillnetter Margaret D built in Ashtabula, Ohio. She was named for and christened by my mother, Margaret V. Dahlmer. They brought the Margaret D and the Rough Rider to Gloucester in 1910. Both fished there, according to local records in the season of 1910. The Rough Rider was later sold to Boston interests.

Lawrence B. Dahlmer was born in Leelanau, Michigan 23 Apr 1887 the second son of Axel B. and Sophia Dahlmer. He married Margaret in 1929.
He fished with his father on the Great Lakes and in 1914 at the age of 18 skippered the gillnetter, Geo. E. Fisher to Gloucester, Ma.

The epic trip was over 2,000 miles down the St. Lawrence River, around Nova Scotia and down the cape shore to Gloucester. His first crew deserted in Gaspe and he had to round up a new crew. He was near two weeks overdue when he arrived in Massachusetts. He quickly outfitted the boat for gillnetting and joined the new Gloucester fishery. He he took title to the boat about 1915 and fished the vessel alternately gillnetting, seining and dragging and sometime before WW-II change her name to Lousam, He sold her to his nephew, Capt. Ralph (Eber) Dahlmer before the war.

Lawrence sometimes hired others to skipper Lousam while he pursued a career in the US Merchant Marine. He was listed as 2nd.Mate of the freighter, Matincook when she arrived in New York on 1 Oct 1925 and is listed as her 3rd.Officer on 20 Sep 1927. Lawrence was a member of Master Mariners Association and in retirement skippered several yachts in Gloucester including Blue Waters and Ben Pine's American. He died in Gloucester, Ma. 10 May 1979.

Ralph W. "Eber" Dahlmer was the third son of Capt. John A. and Anne Dahlmer. Born in St. James (Beaver Is) Michigan on 26 Sep 1904, he died 2 Jul 1979 in Gloucester. He married Helen Elisabeth Avard who was born 8 Jun 1904 in Sackville, Nova Scotia, Canada. She was a registered nurse and died 1 July, 1994 in Gloucester. Eber attended the one-room schoolhouse on Rocky Neck in Gloucester and later fished on his father's and other boats out of Gloucester and Cape May, New Jersey.

Shortly before WW-II he purchased the Lousam from his uncle, Capt. Lawrence B. Dahlmer. He fished Lousam during the war years and sold her after. He was captain of the Superior after the war out of Gloucester and also Cape May, New Jersey until she was sold in 1951. He also worked as engineer on several other Gloucester fishing vessels. He died 14 Jun 1979 in Gloucester.

I will add Captains Ronald and George Dahlmer and their brother-in-law Captain Edward J. Weiderman and his son, Capt. Axel B. Weiderman at a later date when more information is available. Capt. Edward Weiderman married John A. Dahlmers' sister Mary and they made their home in St. James and Charlevoix, Michigan. He brought his family and boat to Gloucester in 1910. They moved to Pt. Judity, R.I. shortly after WW-II

Part - 2 - The Great Lakes Gillnetters

The steam tug Anspach was built in Detroit in 1879. She is the earliest vessel we have found that was either owned or commanded by Axel B. Dahlmer. The term steam tug came into official use as steam replaced sail on US waters. Any boat was termed tug if it pulled or pushed in its' operations. Both Beeson's List of Great Lakes Shipping and the Annual List of Merchant Vessels in the United States adopted the term and used it well into the 1900s. Anspach is listed by Beeson's as under the command of Capt. Axel B. Dahlmer when he brought her to Charlevoix, Mich. in 1896 after having a new boiler installed. Her dimensions were 5gr.tons x 45' length, 12' beam and 5' draft.

John Smith was a steam tug built in 1876 purchased by Capt. Axel.B. Dahlmer in 1900 and documented to him in Frankfort, Mich. Her dimensions were 14 gr.tons x50' length x11' beam x5' draft. Eventually ownership was transferred to Anne Dahlmer She was sold by Capt. John A. Dahlmer in Dunkirk, NY before the MARGARET D. was launched in 1910.

Geo. E. Fisher was a steam tug built in Detroit in 1883 and purchased by A B. Dahlmer in 1908. She was documented to Dunkirk, NY with dimensions of 14 gr.tons x 50' length x 11' beam and 6' draft. Fished on the lakes by the family until she was sailed to Gloucester by her then 21 year old Captain Lawrence B. Dahlmer. Her name was changed to Lousam and she operated as a gillnetter or dragger until 1946 when she was purchased and skippered by Capt. Ralph Eber Dahlmer.

Bager was a steam tug owned by James Gordon of Beaver Island (father of Annie Gordon Dahlmer). in command of Capt. John A. Dahlmer in Jun 1903 when he had a new boiler installed, as noted in the "Beaver Beacon". She was a steam tug at that time.

L. Q. Rawson was a steam tug skippered by Capt. A.B.Dahlmer in 1904. Built in 1896, she was documened in Charlevoix, Mitch with dimensions of: 14 gr.tons x 52' length x 14' beam in 1904.

L. W. Knapp was a steam tug skippered by Capt. J.A. Dahlmer in 1908. She was then listed to him in Beeson's Marine Register at Dunkirk, NY as blt. in 1895 with dimensions: 17 gr.tons x 57' lengthx 14' beam.

Part 3 - The Gloucester Boats

Rough Rider - Document #202482 was one of the first gasoline powered vessels built in the US. She was a gas tug built in 1904 in Manitowoc, Wis.
Purchased in 1909 by Capt. Axel B. Dahlmer of Dunkirk, NY she was listed in Beeson's Marine Register as: 10 gr. tons x39' length x10' beam. She was fished by the family until 1910 when Capt. John A. Dahlmer sailed her to Goucester. She went gillnetting from that port until she was sold down to Boston in 1911.

The Margaret D was built for Capt. John A. Dahlmer in Ashtabula, Ohio in 1909. At her launching she was christened by my mother, Margaret V. Dahlmer. Capt. John sailed her to Gloucester that year or early in 1910 to join the newly established gillnet fishery. The earliest record we find for her in Gloucester is in several listings in the Gloucester Daily Times for daily fresh fish landings in 1910 for both Margaret D and Rough Rider. She was one of the larger gillnetters out of Gloucester, often landing double the amount of fish than the smaller boats. She was documented #120651 at 31 gr.tons X 63' length X 15.2' beam and 7.2' draft. She was lost in fog on Milk Island off Rockport, Ma in March 1913. Family lore has the date of her sinking as Good Friday 13th. which I cannot confirm.

The steam yacht Orion was purchased in Chicago by Capt. John A. Dahlmer in 1912. She had been launched as the yacht Sultana in 1893 in Wyandotte, Michigan. She was brought to Gloucester from the Great Lakes and immediately rigged for fishing as a gillnetter to replace Margaret D. Her documentation was changed in 1922 when the steam boiler was replaced by a gas screw engine of 100 HP. Her doc.# was116583 and dimensions from launching in 1896 till she was sold in 1921 were: 96.7' length X 17' beam X 8.9' draft. With the change to gas power, her gr. tonage was changed from 83 to 73 tons. She fished alternately a gillnetter a seiner and an eastern-rigged dragger and provided the Dahlmer family 20 years of fine and very profitable fishing until she was replaced by Superior in 1922. It was as a seiner that she brought local fame to her captain, often referred to as "The Mackerel King" in the local press.

The Superior was designed by Jacob Story and built for Capt. John A. Dahlmer in 1932 at the Story Shipyard in Essex, Ma. Her keel was the last laid down by famous Essex Shipwright, Arthur D. Story. At the time, the Gloucester Daily Times noted that she was considered by many to be one of the finest vessels ever turned out by that famous yard. She was powered by a 350 HP heavy duty Superior diesel. She was documented #231833 at 110' length X 19' beam X 10' draft.

Superior was often rigged for Redfish dragging, a fishery conducted mostly on the Grand Banks of Newfoundland in which Captain Dahlmer had had much success. In a short time he and the new dragger became high liners in that, as well as the Mackerel fishery. During winter season in the mid 1930s she went seining for mackerel out of Cape May, New Jersey where the Dahlmers maintained a home those same years, Capt. Ronald and Capt. Eber Dahlmer also skippered Superior.

Always alert to new ideas to improve fishing and crew safety In 1934 John Dahlmer had a whaleback focasle added to the bow of the vessel as shown in the photo below. The new feature, soon adopted by other New England vessels, it covered the forward hatchway and provideed added storage space and shelter for the crew when working on deck in heavy seas.

At the outbreak of WW-II the U.S. Navy recognized the perils to shipping from German submarines lurking off our shores to interdict convoys of supplies from the US and Canada to Great Briton. With no navy ships to spare, the navy began to draft civilian-owned ships into what became the North Atlantic Sea Defense Command. The need was imperative for wooden-hulled ships to form a submarine patrol in the nearshore waters. Superior was one of the first Gloucester ships to be enlisted. She was joined by the schooners Gertrude L. Thebaud, Blue Waters and Effie Morrissy among others.

The civilian ships were manned by the U.S. Coast Guard Auxilliary and Active Reserve. They and similar vessels patrolled our coastline from Calais, ME to Key West, FL. They served between 1941 and 1945. As the submarine peril declined off our shores by 1943, a number of those volunteer ships were utilized in doing hydrographic surveys and in supplying weather stations along the coasts of Newfoundland and Greenland. Superior served in that capacity also.

At war's end, Admiral Ernest J. King, chief of Naval Operations acknowledged the fine service provided by those private ships, loaned to the US Navy at a crucial time in the early stages of WW-II. Several people have told me but I have yet to confirm that my uncle, Capt. Ronald Dahlmer who was in the Navy during the war served some time on Superior.

In 1945 Superior was returned to the Dahlmer family by the NAVY. The photo below is dated 3/30/1945 taken in Gloucester after she was returned to the family. She left shortly thereafter to fish out of Cape May, New Jersey and that my uncle, Capt. Ralph Eber Dahlmer was her skipper. On 5 Jan 1951, the day before Capt. John A. Dahlmer died; my step-grandmother sold her to Capt. Roy C. Amero of Gloucester. The last record I have found for her was an undated Gloucester Times article advising of her sinking with Capt. Amero and the the crew saved by a nearby Boston dragger.

Notes

1. As steam and then gas power replaced sails on fishing vessels they were referred to as steam or gas tugs in the "List of Merchant Vessels in the United States" where most of the details here were found. Fish tugs - the hardworking little fishing boats of the Great Lakes were designed to meet the requirements of a challenging environment, the Great Lakes fish tug is a form seen nowhere else.

2. I am currently seeking information my uncles, Captains Ronald & George Dahlmer and their Texas boats after WW-II. Also, Captain Edward Weiderman of Charlevoix, Mich who married John A. Dahlmer's sister Mary on 3 July 1901. They moved their family and boat from from Charlevoix to Gloucester in 1910. The Weiderman's moved to Rhode Island soon after WW-II. Ed and his son Axel both fished out of Pt. Judith, RI. Axel sold his vessel and retired in 2006 and died in 2008.

This article is copyrighted by the author. No part may be copied or reprinted without the express and written consent of the author. Any direct descendant of Axel B. & Marie Dahlmer has my permission to copy this article for their own personal, non-commercial use and enjoyment.

If you enjoy this blog, please leave a comment below.



Wm. Dahlmer Hubbard
© June 5, 2012 in Melbourne, Florida.